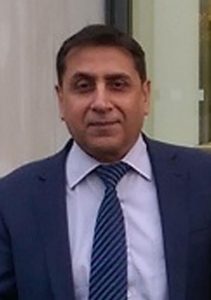 Fayyaz Moazzam
Director
Fayyaz Moazzam is the founder of PetroRisk, a process safety and risk management consulting firm based in Abu Dhabi, UAE. Mr. Moazzam has over thirty-five years of specialized experience in process engineering design, process safety and risk management.  He is a recognized expert in technical safety. He has provided risk consulting services and training to companies globally, including chemical / petrochemical plants, refineries, hydrocarbon pipelines and upstream & downstream oil and gas companies.
Mr. Moazzam's expertise includes the management of process safety, process hazards analysis, quantitative and qualitative risk assessment. He is highly experienced in Hazard Identification (HAZID), Hazard & Operability (HAZOP) study, Safety Integrity Level Assessment using LOPA, SIL Verification, Simultaneous Operations (SIMOPS), Constructability Reviews, Electrical System HAZOP (E-HAZOP), Control HAZOP (C-HAZOP), Alarm Management, Reliability, Availability & Maintainability (RAM) Studies, Project HSE Reviews and Value Engineering.
Mr. Moazzam has acquired various international certifications in process and functional safety including TUV Functional Safety Professional, EXIDA's Certified Functional Safety Expert (CFSE), HAZOP Study Leadership and Layer of Protection Analysis (LOPA) from Institution of Chemical Engineers UK and Associate Value Specialist from Society of American Value Engineers (SAVE).
Mr. Moazzam has traveled worldwide and completed consultancy projects in the field of process safety and value engineering including Argentina, Bahrain, China, Germany, Indonesia, Japan, Kuwait, Malaysia, Netherlands, Oman, Pakistan, Qatar, Saudi Arabia, South Korea, Spain, Turkey, United Arab Emirates and United Kingdom.